Triangle Associates, Inc. recently hired Jolene Rosser as marketing director, Don Buczkowski as architectural production manager, John Bellows as a site project manager, Pat Battaglia as a site superintendent, Kelsey Ford as a marketing coordinator, Laura Freel and Terri Ashmore as executive administrators, and Christina Cummings as a project administrator.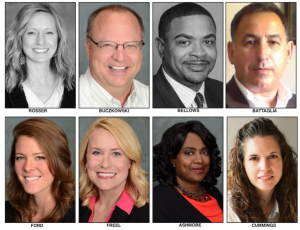 As marketing director Rosser's primary responsibility is to assist market segment leaders with the development of specific business plans, and to develop presentation strategy, structure and style for all sales pursuits. She will also manage the firm's corporate website and production of statements of qualifications and proposals, and will work with clients to develop fundraising and bond election campaign strategies to ensure successful outcomes. Prior to joining Triangle Rosser was creative director at Rockford Construction in Grand Rapids, owner/art director at IFly Design Studio, and marketing design manager at US Signal Company. She earned her degree in visual communication from Ferris State University.
Buczkowski's responsibilities as architectural production manager include interpreting and collaborating on conceptual designs, creating and managing Revit CAD standards, and reviewing and red-lining shop drawings. He was previously with GMB Architecture and Hobbs & Black Architects as job captain, and Beta Design as senior architectural technician. He graduated from Ferris State University with an architectural drafting degree.
As a site project manager for the team that is managing a multi-level senior living program throughout the metro Detroit area and the Midwest, Bellows' responsibilities include managing the conduct and performance of the construction project. He's also involved in the contract management, pre-construction activities, project scheduling and execution, and field operations of the job. He was previously with GATC Contracting as a project manager in Charlotte, NC; and with SYTE Corporation in Chicago as a project manager. Bellows earned his Bachelor of Science degree in construction management from Ferris State University.
Battaglia's responsibilities as a site superintendent for the metro Detroit team that's managing a multi-level senior living program include site mobilization, safety, site control, and the management of all subcontractor activity on the project. He was previously managing director at American Classical Academies, and partner/director of facilities development at Charter Consultants LLC. He's received professional certifications in construction estimating, construction blueprint reading, and construction law.
Ford's responsibilities as marketing coordinator include assisting Triangle's business development team with proposal development/preparation, company promotions and events, and advertising. She was with Milestone Internet Marketing in Chicago as a senior account manager and an event coordinator with Travel Plus Social Good. Ford earned a Bachelor of Science degree in advertising and promotion from Western Michigan University.
Ashmore and Freel were hired as executive administrators to support and provide technical assistance to Triangle's chairman/CEO, president, senior vice president and vice president/business development. Prior to joining Triangle Ashmore was executive assistant to the regional president of Fifth Third Bank in Grand Rapids and the president of Fifth Third Mortgage Company. She earned her Bachelor of Science degree in business and human resource Management from the University of Phoenix. Freel was previously development associate and executive assistant to the vice president of development, and was also was executive assistant to the chairman of The Winquest Group. She earned her Bachelor of Arts degree in Child Development from Central Michigan University.
As project administrator Cummings responsibilities include providing assistance to project managers and assistant project managers with pre- and post-construction activities, issuance of subcontracts and purchase orders for a project, and assisting with overall document control. She was previously with Bouma Construction and J & L Industrial Supply, both located in Grand Rapids. Cummings earned an Associates Degree in Arts and Sciences from Grand Rapids Community College.
Triangle Associates, Inc.
Triangle Associates is a client-centered construction company that provides construction management, general contracting, design/build, development, and sustainable building/LEED consulting services across a wide variety of market segments. Founded in 1918 in Grand Rapids, the company is currently celebrating its 98th anniversary. Triangle employs more than 120 associates throughout the country and for 13 consecutive years has been named one of West Michigan's 101 Best & Brightest Companies to Work For by the Michigan Business and Professional Association. The company was also named as one of the 101 Best & Brightest to Work For in the country for 2015.
The company also received an award for Michigan's Brightest Sustainable Companies for three years in a row, and in 2014, was named the organization's "Elite Small Business" winner. In addition, Triangle was recently awarded the Platinum STEP Safety award from the West Michigan Chapter of the Association of Builders and Contractors, and was named one of the top 400 contractors in the country by ENR magazine.